For Nicole, design was a familiar language, natural to the way she expressed her ideas and saw the world.
But she didn't call it design.
In this interview, Nicole shares lessons learned from our internship program and how her understanding of design evolved. She interned with her friend Cyra Cupid in 2017 and again in 2019. Together, they're graduating from the Rhode Island School of Design (RISD) in 2020.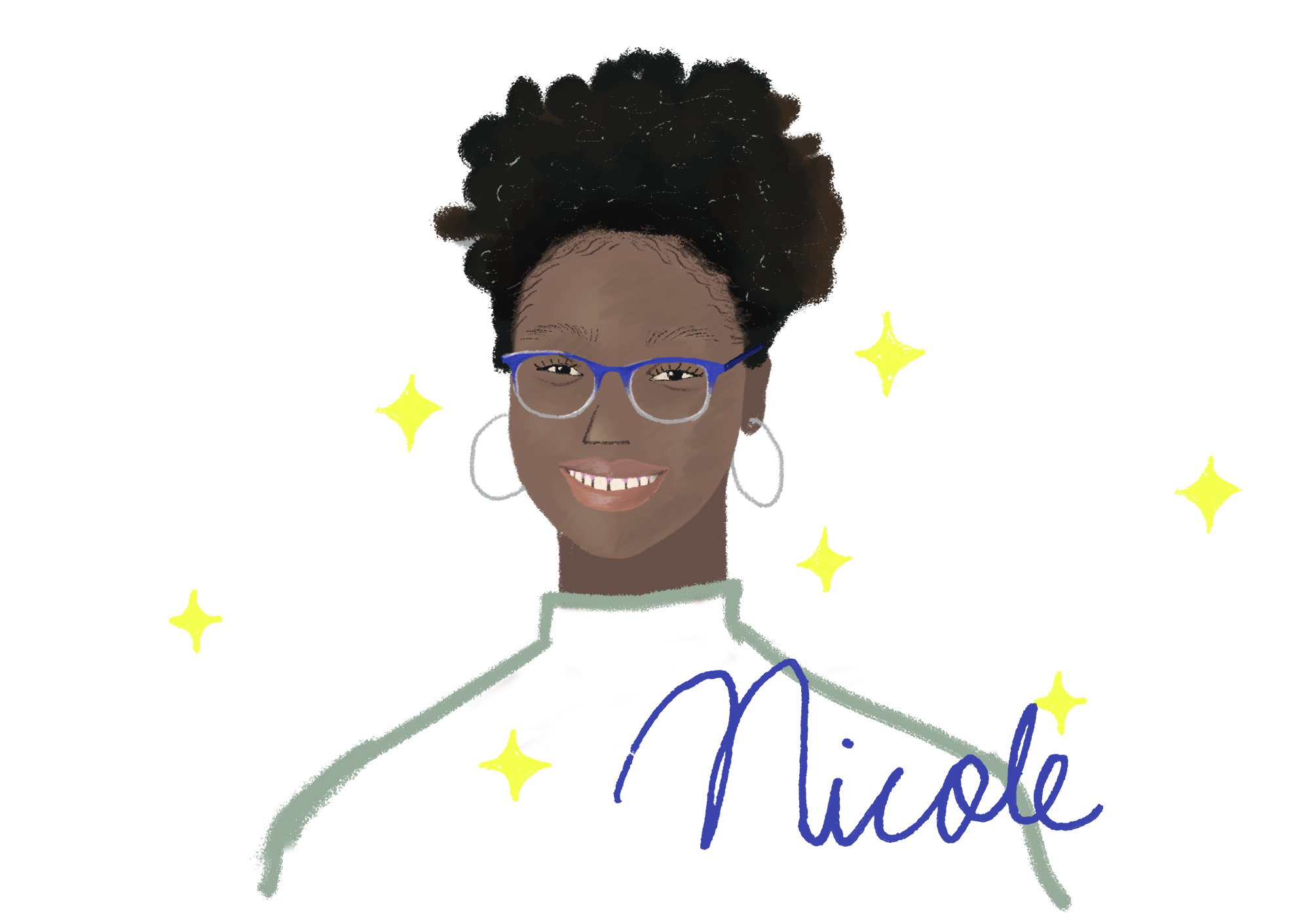 COLLINS: Nicole, what interested you in interning at COLLINS?
Nicole: I was studying fine art at the Parsons Scholars Program and was looking for job opportunities. I received a brief about an internship at COLLINS and it sounded different from what I was used to.
I arrived at the office and we walked into the library. It grabbed me. I loved that there was a library.
Before I attended Brooklyn Art High School, I was making book covers for writers on a platform called Wattpad. I didn't call it graphic design.
Then I met Brian and was inspired by how he talked about and viewed design.
What were you doing before all of this?
At Parsons, we did a lot of different mixed media projects—pastels, charcoal, illustration, and painting. I took fine arts classes, did nude charcoal drawings, and took a photography class.
Then I came to this internship and saw design in a new context.
And now you're going to RISD for graphic design.
One-hundred-percent the internship inspired me to major in design. I was going to major in illustration. If I'm being honest … I didn't major in illustration because I didn't think it would be a lucrative career.
We learned InDesign and Illustrator the first time we were here. I was like "I'm going to do this," because I saw what other people could do in InDesign and Illustrator.
The timing was perfect: At Parsons, we had to design our own exhibition, and there was a graphic design team. I remember the posters that were created to promote the event. I was like, "Damn. They look cool. If you can do this in InDesign, then I'm learning InDesign." The more I was learning the material, the more I wanted to practice graphic design. I always want to do stuff that I don't know how to do. I want to make sure I learn as much as I can.
Your first year at RISD, what were you learning that made graphic design more interesting?
I'm going to be so real with you. Freshman year at RISD is nothing about your major. I wasn't really learning anything about graphic design until the winter session.
That was when I realized I was going to do it. The teacher had us make posters—she had us make our own typeface, but we had to draw it using pixels. It made me like it even more.
The winter session is a time to help students figure out their major. That's why we have the design studio, spatial dynamic studio, and drawing studio. You're learning about all the different paths.
If you don't have a declared major, then you have a bunch of sessions to experiment and figure out what you want to learn.
The actual semesters didn't really do anything for me. The winter session helped me define what I wanted to do. We went to the museum and saw different art. You can always merge different ideas into graphic design. It's not just one medium.
When I knew I could do that, I was like, "All right. I know where I'm going."
Your heart is set on illustration? Or would you say just graphic design overall?
Graphic design overall. Because I don't just like drawing—I like video. I like photography. I like using found material—anything that I can put together. I think that's how I work: I like to put things together.
That's an important realization.
Yeah, I think graphic design is me.
You came back for a second internship. What was different from the first one?
In the first one, we were learning the different tools and programs.
In the second internship, we actually had a project, and we were sitting with everyone. I was nervous to talk to other people. I had to get over that.
We worked on an identity project for Target. It was fun because of the way Megan introduced the project—we each got a name, and she gave us each our own directions. I think it was up to us to choose the color, and she helped us set a mood board. We had to go out to CVS and look for stuff and take pictures. Then we had to make logos and put the logos on products and do a photoshoot. That's the first time I actually had a project, because we didn't do graphic design yet at RISD.
That was a major difference. We were learning, and now we're doing the work.
In a few years you went from not thinking of graphic design to now seeing it in a professional context. What's your definition of design?
It is a means of expression. It really is, actually, because it's not just one thing.
You could do anything. You could actually do anything and call it design. It's weird, but you can.
The one thing that I've always wanted to do was to be able to be myself. It's not like I couldn't 100% be myself, but for some reason I'm always holding myself back. I don't know why. It's weird, but I feel like communication is a very important thing in graphic design—both what the client wants and what you see.
Honestly, they even tell us at RISD, whenever you design, you don't design for yourself, you design for the customer. Regardless, you have a piece of yourself in whatever you do. I honestly feel like you can't be a machine. I feel like anything I do is going to have a piece of me in it.
Design really is everything and everywhere. I feel like that's why it has such a good connection to expression.
"Design allows you to exercise all these different voices that you have in you."
What do you do outside of school that helps you learn?
I use YouTube! You have to already know how to do certain stuff when you're in graphic design, but I didn't know how to do some of the programs when we had the internship. I didn't have to do After Effects for a project, but I wanted to.
So, I looked it up on YouTube, and I did it for my homework. Then after that, I kept looking up how to do different things in After Effects so I knew how to do them.
What advice would you give to a younger student?
I would tell them to be more involved with events that are happening on campus.
What's stopping you?
Thanks, Nicole. Your story and desire to learn are going to resonate with so many students.
---
You can find more of Nicole's work on her website and Instagram.
About the internship program
Our internship program invests in high school students from underrepresented communities. During the two months, our interns learn about our philosophy on creativity and design, as well as the different tools that make their ideas real.
Led by our Director of Talent, Yocasta Lachapelle, we also assist our interns in financial aid logistics, student loan negotiations, college applications, and we provide ongoing mentorship. Over time, our interns also sit in on client meetings and contribute to projects. We're thrilled it is entering its fifth year.
Our interns have continued their education at the Rhode Island School of Design (RISD), University of Michigan, Cooper Union, Fashion Institute of Technology, Lehman College, and John Jay University.
Recently, we are turning the in-person internship and into online workshops.
If you are—or if you know of—a high school or college student of color seeking a career in design in San Francisco, New York City, or elsewhere, please let us know at apply_ny@wearecollins.com.
---
Paul Jun is the Editorial Director of COLLINS, leading a new endeavor in sharing ideas on design and creativity.
Artwork by Sanuk Kim, COLLINS.