"What do you want to do?" is a daunting question to ask a student because the options are endless.
"Who do you want to become?" is a focused question, encouraging the student to point at their heroes and heroines and say, "that."
For Cyra Cupid, she didn't know how her passion for painting and illustration could evolve. She also struggled to find her own path. When she learned about design in our internship program, the world opened up.
In this interview, Cyra shares what she learned in our internship program, how it influenced her career trajectory, and what design means to her. She interned with her friend Nicole Cousins in 2017 and in 2019. She is about to graduate from the Rhode Island School of Design (RISD) in 2020.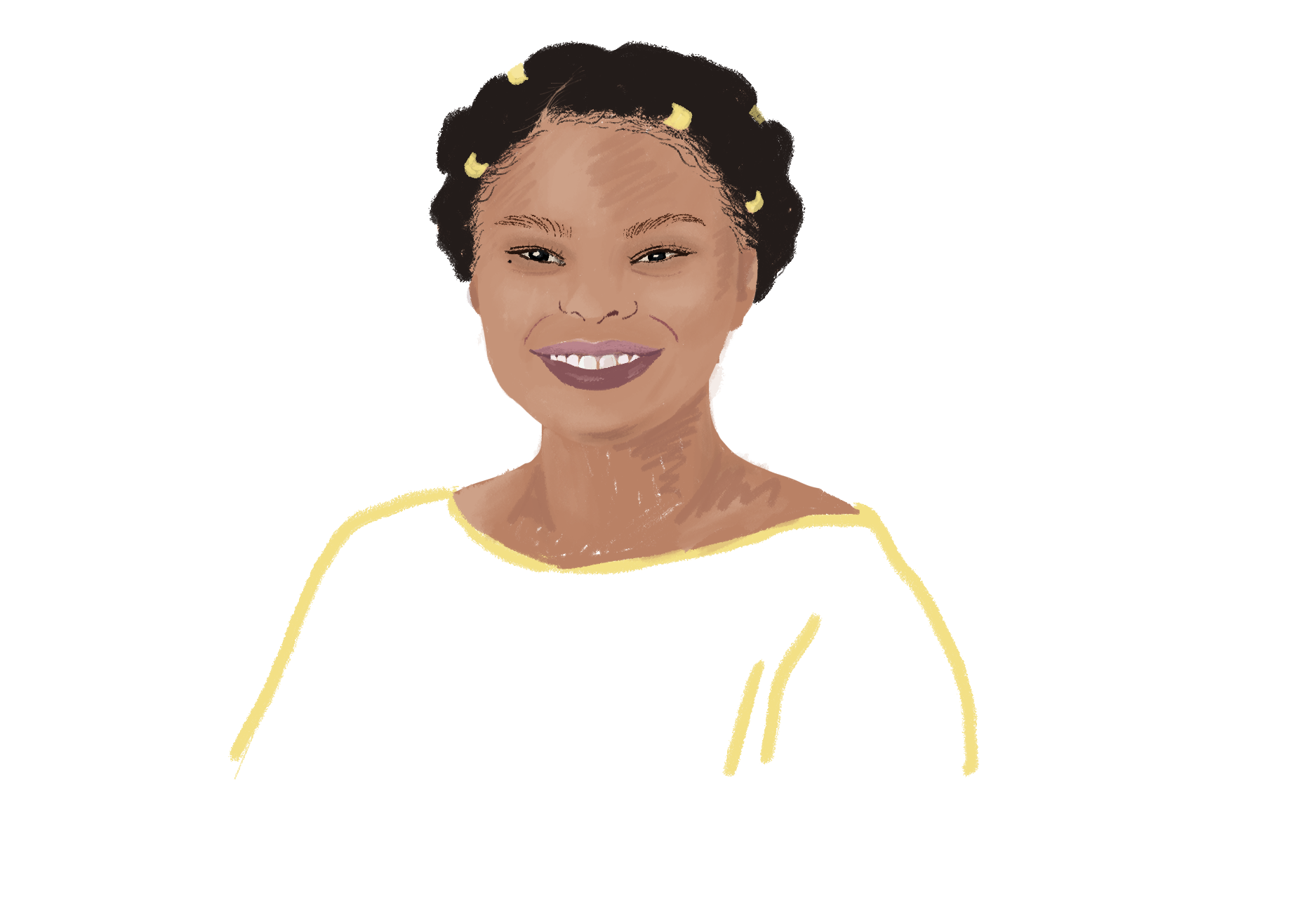 Cyra, what interested you in interning at COLLINS?
I heard about COLLINS through the Parsons Scholars Program. I had the opportunity to visit right before applications were open, and they were showing the visitors a lot of their work.
At the time I had a painting background, so I wasn't really sure what I wanted to do. I was leaning more toward illustration because it was closer to painting at the time. But after seeing a lot of the work that COLLINS did, I started thinking about communication design and what I can do in that field. Visiting the space inspired me to think about graphic design overall.
How did that change the way you thought about illustration?
I was definitely more confident because we started messing around with illustration and learning the applications for Adobe, like Illustrator and Photoshop. I was getting familiar with the tools that you would use in graphic design and I realized how I didn't really like drawing that much in the way that I thought. I realized that I wanted to do branding because they gave us mini projects or exercises to do that involved brand identity. I really enjoyed those.
I liked being able to solve problems and communicate my ideas in a different way that I felt like painting and illustration didn't really allow me to do; it helped me to reach a different audience. I appreciated that after going into the first internship. It was my first interaction with graphic design, because in my high school we only did painting, and there was no introduction to design in general.
After your first internship, what did you do afterward?
I was in my freshman year and it's the foundation year, so you don't really get to choose your major. I was still drawing and painting, but I wasn't able to take a design class until my second semester when I took the illustration design class. It was mixed with graphic design illustration and it was the first time that I got to use the tools that I learned from COLLINS.
I was able to work on my first imaginary branding project. We got to rebrand a project that we were interested in, which was really nice. It was kind of like reintroducing what I loved about COLLINS at the time.
"After seeing a lot of the work that COLLINS did, I started thinking about communication design and what I can do in that field. Visiting the space inspired me to think about graphic design overall."
What did you work on?
I decided to rebrand a theater that my high school was related to. They work with young girls and they have performances that we were able to visit through Parsons as well, but their website was really bad and kind of generic.
I wanted to bring out the energy that they perform with into the website. It's one of my worst projects, but it was really interesting to see what I could do with the Adobe Suite. Because I was new to graphic design, I really didn't know any of the rules that went toward that. But I feel like that was kind of the tipping point where I knew that I wanted to go into graphic design as my major, because of that class and using what I learned here at COLLINS.
You did a second internship after your freshman year. How was it different?
In the first internship, we didn't work on an actual client project, but we were able to make up a mock-up for what the project would be. So say they were working on a project for Target, they gave us an exercise that was related to that. And we had to go through step-by-step on creating a brand, choosing the typeface.
We hadn't gone into our major yet, so we didn't really know about typefaces and the kind of fonts and stuff that you're supposed to use. It was a good starting point, and we also left that summer with an actual project that we could use in our portfolio, which was really nice.
With two internships done, a new understanding of design, and attending RISD, how has this influenced the way you think about your career trajectory?
It was interesting to see the kinds of things that COLLINS did versus what we were introduced to in school. Working at COLLINS made me realize the kind of workspace that I want to be in. I don't really think I would want to be in something that is tech or corporate. I think I would be more comfortable working in a studio like this.
That helped guide me to what I want to do after I graduate. I'm still not exactly sure where I want to go, but just being introduced to a studio, the kind of space that we would be in, this was kind of the place that I wanted to work and it was really nice. At RISD I was able to get a different perspective on the kind of work that you do in graphic design because I really didn't know about the history of graphic design. I thought you made a logo and that was it. Seeing the background and the inside view, like what you do in a studio, was helpful to see, and that also helped me when I started working on my own projects. I was really ambitious to work on things that had to do with identity.
What is your definition of design, or how has your understanding of it changed?
I see it as solving other people's problems. It's viewing things in an artistic way; solving an issue that other people can't see, or visualizing something for other people and creating a system that helps communicate other people's ideas. That's something that I like being able to bring to life — finding something that someone sees in their mind and helping them with that.
I'm still trying to figure out what graphic design means to me because I do feel like in RISD it's a specific thing and it's still along the lines of a poster or a logo. At least in my year it is, and I'm not exactly sure that it's the kind of design I want to make. I'm still trying to find my way in that sense. For a semester, I was really interested in book design as opposed to making brand identities, and I was also really interested in making typefaces. I think design can be interpreted in different ways, but I do think it's communicating a problem or an issue.
"Working at COLLINS made me realize the kind of workspace that I want to be in."
What are you curious about right now in terms of your career or your work?
Right now, because we're in our third year, it's really important that we start looking at what we want to do for our final projects for next year and thinking about internships and what we're going to do after we graduate. I'm trying to think about what direction I want to go into, because I'm interested in type design, but I also want to work in this studio that works on brand identity.
I'm battling with that and trying to figure out what my passion is because, in school, certain teachers make you do what they want you to do and you don't get to really express your interests very much. So I'm trying to explore and see what I'm really passionate about, especially this semester before my final year. That's where my head is at.
What do you do outside of school to learn the things that you're passionate about or interested in?
Right now, school is kind of like how I feel about graphic design because it is so limiting. But outside of school, I feel like I don't really have direction on what I should do because graphic design is new to me even though I've been in it for almost two years. I'm looking for people to follow for inspiration through social media on the kind of design that I'm interested in, but it's still kind of unclear.
I've been trying to work on some of the projects that I've started in school because, for the last few years, we had a lot of mini-projects that we didn't get to fully develop. So I'm working on building on those because I have a lot of them that I am passionate about but because they were small projects I didn't get to push myself and go further with them.
I also need to work on my ability to work on those projects outside of school. Sometimes I lack the passion to work on them because of how I'm feeling during school. It's a certain kind of look that certain teachers push and it's really disheartening because I don't think I can achieve that style that they want. So in that way, I sometimes lose my passion to figure out what I'm trying to do.
What advice would you give to a fellow student?
I would say to pursue what you want to pursue because a lot of the time I was following other people and letting other people influence what I wanted to do. Originally, I wasn't even going to go to RISD; I was going to go to Pratt because I felt like it was a safer school to go to and in more of my comfort zone, and I wasn't really allowing myself to explore. So that's something that I would want to take more advantage of because I did have access to different aspects of art and design, but I never really explored them.
"I would say to pursue what you want to pursue because a lot of the time I was following other people and letting other people influence what I wanted to do."
When was the moment you realized that you weren't following someone else's path, and you started following your own?
When I decided to go to RISD. A lot of people expected Nicole and I to go to Parsons because we were in the pre-college program together.
I think if I did go to Parsons, I would be doing painting and I wouldn't be doing graphic design. But making the choice to go to RISD kind of pushed me into a new space physically because we're in a different city with different people. That helped encourage me to figure out, is this what I want to do? Why? And I discovered the reasons why I chose to go to RISD.
Keep going, Cyra. Thank you for sharing all of this. This is going to be helpful to all students.
---
You can find Cyra on Instagram.
About the internship program
Our internship program invests in high school students from underrepresented communities. During the two months, our interns learn about our philosophy on creativity and design, as well as the different tools that make their ideas real.
Led by our Director of Talent, Yocasta Lachapelle, we also assist our interns in financial aid logistics, student loan negotiations, college applications, and we provide ongoing mentorship. Over time, our interns also sit in on client meetings and contribute to projects. We're thrilled it is entering its sixth year.
Our interns have continued their education at the Rhode Island School of Design (RISD), University of Michigan, Cooper Union, Fashion Institute of Technology, Lehman College, and John Jay University.
Recently, we took our in-person internship and turned them into online workshops.
If you are - or if you know of - a high school or college student of color seeking a career in design in San Francisco, New York City, or elsewhere, please let us know at apply_ny@wearecollins.com.
---
Paul Jun is the Editorial Director of COLLINS, leading a new endeavor in sharing ideas on design and creativity.
Artwork by Sanuk Kim, COLLINS