There is no single path into design. No single journey. No one experience.
But no matter what road you take, there will be barriers and potholes. That is true for every designer, but is painfully true for young, Black designers.
Thirty-seven years ago, designer Cheryl D. Miller talked about it in her landmark thesis, "Transcending the Problems of the Black Graphic Designer to Success in the Marketplace." If anything, the "problems" have become even more difficult to overcome since it was published.
"We are trying to fix a system that is broken, one we as designers should re-imagine and build from the ground up." says Yocasta LaChapelle, Director of Talent at COLLINS. She developed our high school internship program with Nick Ace, Amber Guild, Leland Maschmeyer and Brian Collins seven years ago.
"We are trying to fix a system that is broken, one we as designers should re-imagine and build from the ground up."
So now - let's imagine a future that will take us to better place. And let's stop rehashing the past that's kept us all from thriving together.
"What if we thought of the experiences of Black people beyond the traumatic, narrow narratives of slave ships and pyramids? What if instead we used metaphors of space travel and the narratives of technology? What if we started looking at futuristic metaphors to tell stories about Black people?

Not only would that revise how we engage race, but it would also provide a map of the future in which Black people play a central and significant part."

— Nicole Cousins, High School Internship Program alumna (referencing Louis Chude-Sokei on Afrofuturism)
Throughout 2020 and 2021, the education team at COLLINS mapped out the next steps for what has now become an ongoing high-school-through-college intern and mentor program. The team carefully identified and analyzed the many barriers at each stage of a Black designer's journey from Awareness through Recruitment. Then they developed a detailed plan for how the profession as a whole can address these many, often interrelated challenges.
Nicole Cousins, now a designer at COLLINS, illustrated this journey. Drawing on her first-hand experience, she positions the Black designer not as victim, but as hero.
"This is your story. This is your time as a Black designer. We need you. It's about you and you are important."
"I wanted to translate "A Black Designer's Journey" into a hero's journey because I wanted read as a narrative: This is your story. This is your time as a Black designer. We need you. It's about you and you are important.

The whole thing is kind of in its own world, inspired by a lot of Afro-futurism and Afro-surrealism. Afro-futurism gets the Black community in touch with their roots, while at the same time helps individuals seems themselves as main characters."

—Nicole Cousins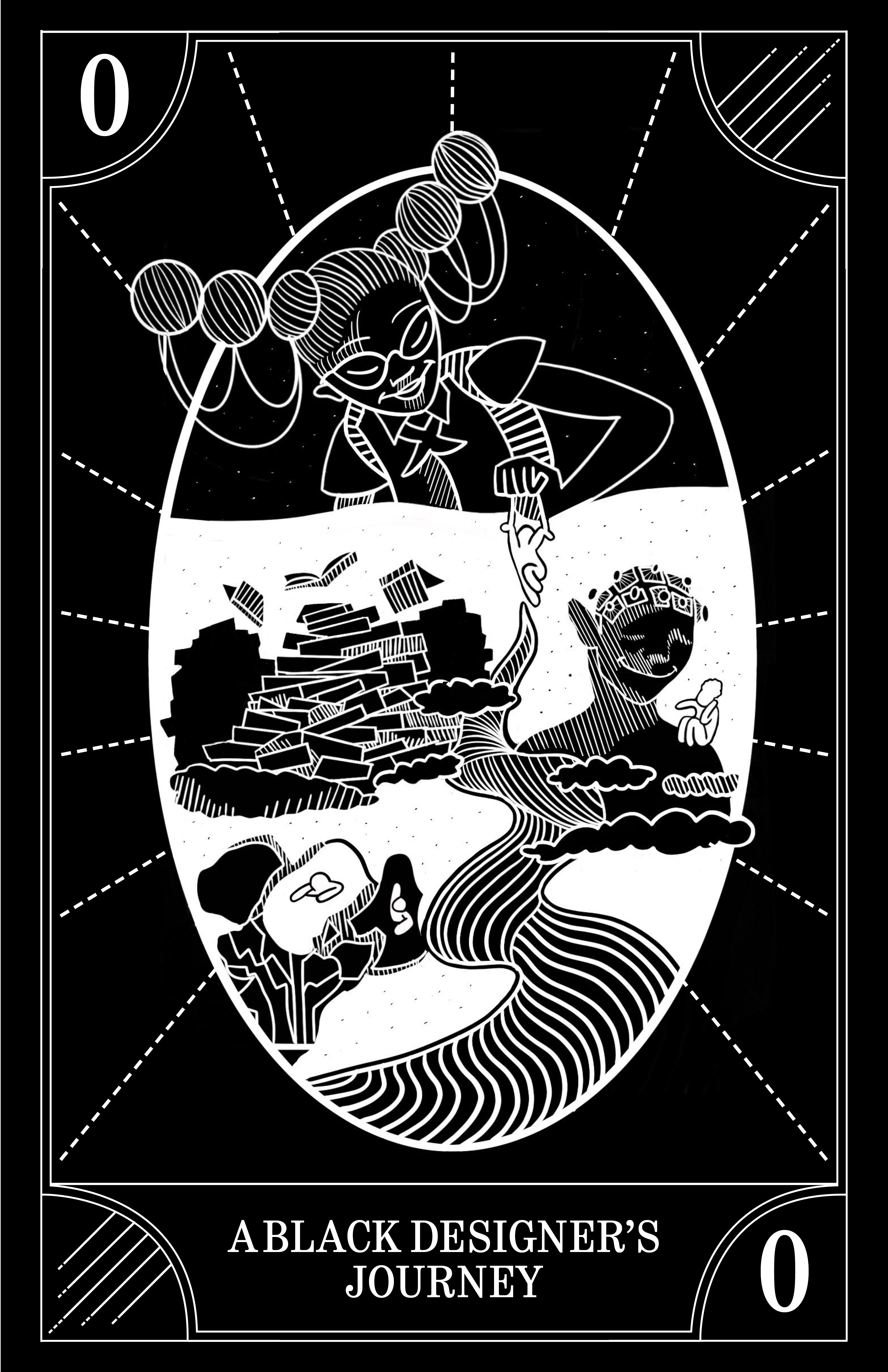 AWARENESS | High School
All phases of this journey are important. But if a young high school student of color has no awareness about the possibilities of design, the journey is over before it begins. This was the insight that inspired and continues to animate the COLLINS program: How do we reach these young, talented students bursting with creative curiosity, but without knowledge of their potential place in the industry.
We began by building relationships with high schools across all of New York City. We knew it was important to reach students a this much earlier, critical point in their decision-making about their futures.
Although Nicole knew about designers in high school, she had never had any validation that she could be one herself.
"I did design work, but it was just me playing around. I didn't know that that was actual design."
I did design work, but it was just me playing around. I didn't know that that was actual design. I thought it was a thing I just liked to do. After the internship, I realized that design is an actual thing. I've always liked being creative, but that's how I discovered design as an actual path and a career."
Isis Joseph, a graduate of our 2018 class, had a similar experience,
"I don't think I would have called myself a designer if I hadn't taken the COLLINS program. It solidified for me that it was possible for me to actually be in this industry. For a long time, I didn't know what that looked like, although I created projects. I remember feeling like I could really contribute something to this industry if I tried hard. I now see the possibilities of what I can achieve in this industry."
The growing lack of exposure to the arts in public schools—and as the arts as a viable career path—is due to a growing and alarming lack of funding. This is even more true for schools in communities of color.
In the US, predominantly nonwhite school districts receive on average about $23 billion less per year than predominantly white districts. And, of course, arts programs are often the first to be cut. In New York, The Mayor's Arts Education Advancement funding was slashed by $15.5 million in FY 2021 budget.
As a profession, we have a responsibility to address these disparities. We can open our studio doors to young Black students. We can develop programs that give them the exposure and training they will need to succeed as designers. We can be advocates, getting involved with local public school districts. We can sponsor arts programs. We can host informational events for students—and their parents—to tell them about our industry, including salaries and possible career trajectories.
"I remember feeling like I could really contribute something to this industry if I tried hard. I now see the possibilities of what I can achieve in this industry."
We can engage with local leaders and policymakers to lobby for increases in funding for arts education in public schools. It is past time to reverse decades of disinvestment in arts education. Nearly one third of all public schools in New York—an arts and cultural capital of the world —are without adequate facilities and resources.
Exposure to the arts is a start. But this is a long- arc effort. We must also build relationships with families so they can feel more confident in their children's pursuit of design as a career.
"Having that connection with COLLINS—and also having my mom meet the people that work at COLLINS—was able to help build her confidence in me doing this as a career.

She was able to see some of the work that I was doing. I think that made her feel like I could actually do this and it's okay as a career—and it's not the 'starving artist' trope that people think it is."

—Cyra Cupid, Internship Program Alumna, now in her senior year at RISD
ACCESS | Pre-college
The National average of public school counselor-to-student ratio is 1:415. The average number of minutes a public high school student receives for college counseling is 38. So that's less than one hour to help a high schooler explore all their options for the future. Throw an unconventional career such as design into the mix and it is a disaster.
And it gets worse. In the past 20 years, tuition and fees in the US has risen by more than 140%.
Let's say our intrepid, young Black designer identifies a good program—because of this steep increase in the cost of education, they will need to apply for financial aid, which is a dizzyingly complex, outdated and deeply painful process. Students can easily fall victim to predatory lenders and incur crippling debt.
At COLLINS it quickly became clear that a high school internship was only the beginning. We needed to help our interns access the resources and information so they could take the next big step on their journeys.
"I think having that guidance from COLLINS was very helpful as well: doing research on scholarships and things like that. We were able to get a scholarship that really impacted my financial aid and helped me throughout college. And I was able to do that while I was at COLLINS."

—Cyra Cupid
We can do so much more. Collaborating as a profession, we can create and distribute a directory of scholarships (including those specifically for students of color) for studying art and design. We can establish our own scholarship funds, too. As design practitioners, we can also provide direct, personal support and guidance. We can be the network these students need, helping them select the best programs and apply for scholarships. We can also help them chart alternate paths to traditional undergraduate programs: fellowships, portfolio programs, and innovative two-year programs.
"We asked a lot of designers about their school experience and the steps they took in selecting specific courses that helped them through their academic career. Hearing about other designers' experiences helped me figure out which classes would be most beneficial to my education."

—Cyra Cupid
Development | College
"In freshman year, I was the only Black student in all my classes. It was kind of hard for others to get what I was trying to say. And at the same time, because it was hard for them to get my identity in my work, there wouldn't be much of a critique."

—Nicole Cousins
Art school is hard. And art school can be much harder if - in a class full of talented, creative (mostly white) misfits, you are a talented, creative Black misfit.
"I feel like a lot of the time, I had to guide conversations—which was sometimes helpful. But I felt like a lot of the time there wasn't any feedback or critique on what I could improve, because either people weren't educated on those topics or just didn't feel like it was their place. Or didn't care.

But it was also running into people, even teachers, who intentionally pushed those conversations only to inspire controversy. And then, not guiding the conversations, but letting them run into anything—which in certain situations became problematic. Other students of color would have to step in."

—Cyra Cupid
The lack of Black faculty means that there is typically limited representation of Black design in the curriculum. It also means that often there is nowhere young Black designers can turn to for support.
"You need to be able to see yourself or for people to talk about you like you are as much involved in this industry as they are."
"You know, going to a predominantly white institution and being the only Black artist or designer in the class, a lot of times I felt uncomfortable, for lack of a better word. I created work that dealt with issues of race, or education, or just like the horrible things Black people have gone through.

It's just very white, the curriculum, the white professors. And I was the darkest person in the room It just never was an inviting space."

—Isis Joseph
That sense of isolation can inhibit a Black designer's creativity and undermine confidence. Even worse, it can reinforce an unsettling suspicion that this is really is a white person's field. And there's an idea that has no place in our otherwise expansive world of design.
"Most of my graphic design education, my identity was never discussed—or there was a belief, to me, that my identity influenced this industry in zero ways, you know?

I never did a project about a Black woman designer.

I never learned about someone like me being a Black girl in design class.

But I still love design, and I think you need something to match that passion that you have to do something. You need to be able to see yourself or for people to talk about you like you are as much involved in this industry as they are."

— Isis Joseph
The internship program evolved into a place for these interns to connect with each other and build a new community.
"What I've heard and saw from the students is that the primary value of the program has been twofold: One, they have peers. They are in a group setting where they are not the only Black student.

That realization—I mean, it's so obvious, but not if you haven't experienced it—the empowerment and the confidence that is instilled by not being "the Black person" in the classroom. By just being design students with their peers—that camaraderie and community is really inspiring.

And then they are producing work they said they wouldn't have made in school because their teachers wouldn't "get it," or they would just not want to bring up certain things in that classroom setting. Recognizing the importance of the environment for them changed the way I thought about things: If that's how they feel in a classroom setting, then obviously, imagine how that translates to a work setting. It just makes me look back at so many experiences or environments where I didn't have that awareness, or empathy, or a recognition of how different an environment can be."

—Megan Bowker, COLLINS Design Director & Internship Mentor
RECRUITMENT | Industry
A key stage of a Black designer's journey—recruitment—lands squarely on the shoulders of our profession.
Internships are a good start. A student who participates in a summer internship is 56 percent more likely to receive a full-time job.
Sharing networks and resources, connecting students to those we know in the industry, also makes a difference. 80 percent of jobs come through networking. It isn't only whom you know, but also how you know them.
Networks can provide fast and "organic" feedback, informal career counseling, peer mentoring and shared portfolio reviews. These are invaluable to designers just starting out.
"People being able to get resources for their projects that I couldn't get was something that I think at first diminished my confidence in a way," says Cyra, who instead often relied upon her peers to get leads on internships and insight into the industry.
It shouldn't be this difficult. As industry professionals, we are in a position to bring more diversity and talent to design programs, from the top down. And as prospective employers of newly minted graduates, we can leverage our influence by prioritizing partnerships with and directing funding toward the best, most open-minded and rewarding colleges and design programs.
We can encourage and support student peer networks. We can also work to help more students see themselves reflected in their peers, their faculty and their curriculum.
"I would like to see more leaders of color in the education of graphic design, or even in art. It would have been very helpful to me, being able to see myself in the field—seeing actual design leaders in the field. Because that's who I am. I want to see people who look like me."

—Cyra Cupid
Our perspective around hiring needs a shift.
"It seems like the way the industry thinks about hiring right now is very much, "Who can give me the most at this moment?" And not: "Who has potential?" With whom could I share a mutual benefit—both learn from and invest in?"

—Megan Bowker
Even as we as an industry have expressed our intention to become more diverse, until we begin thinking about what we have to give as well as gain, meaningful and enduring change isn't possible.
It will take clear intention. It will take effort in mentorship. But the bottom line is clear: We all benefit. Investing in Black design talent makes our already innovative profession even more innovative and expansive. And more widely different perspectives make us better.
As more Black designers enter the industry, they will bring also their unique identities to all the conversations ahead.
"It seems like the way the industry thinks about hiring right now is very much, "Who can give me the most at this moment?" And not: "Who has potential?" With whom could I share a mutual benefit—both learn from and invest in?"
"I just want to see more authenticity. Right now, a lot of creatives, a lot of people in this industry are calling for Black designers. But it looks like they're just doing that because they just need to fill a quota or to represent something else that's other than showing interest in that person for their talent. Authenticity is something that is very much needed. My internship here was perfect. We need more of that. Because, if you see that there's an issue, you should try to fix it instead of just trying to stay comfortable…."

—Nicole Cousins Our job as designers is to imagine and build better futures with our clients. The way we see it, it is our job to break down barriers, and build an inclusive future for all.
The Black Designer's Journey infograph is included in The Black Experience in Design, an anthology published Feb. 1, 2022 by Allworth Press.
This book is available at Amazon, Barnes & Noble, and Harriet's Bookshop.
There are many ways to get involved, including Herman Miller's Collaborative: Diversity in Design
To get involved with us and participate, teach or join our programs, please reach out directly at apathforchange@wearecollins.com.
We can't wait to hear from you.