When you ask kids what they want to be when they grow up, they might say doctor, firefighter, athlete, etc. Whether this is influenced by parents or what they see on television or what their environment shows, our desires often come from around us.
This is why internships are essential: you immerse yourself into an environment that reflects the realities that you'll be dealing with.
This is how Cesar Rodriguez — an art student attending Cooper Union and an intern of our High School and College Internship Program — discovered the work he wanted to do after graduating. He reflected on how he got these opportunities and realized that this feeling he had — being supported and believed in — was something he wanted to give back to students like himself.
In this interview, Cesar shares some new ideas he learned in design, how design is helping him see his fine art in a new light, and why he wants to help students from underserved communities.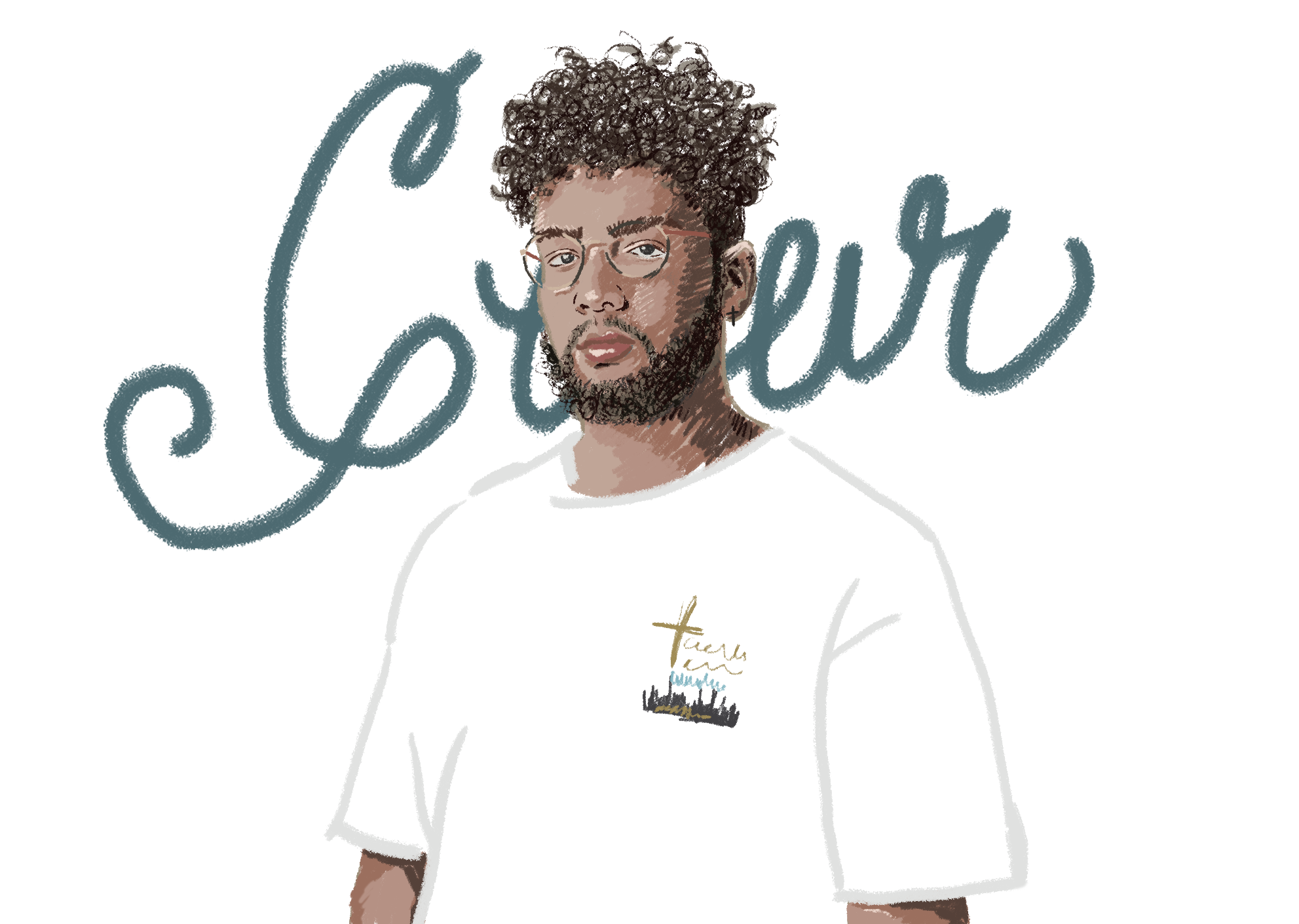 This was your first internship. What's one of the most important lessons you've learned?
The biggest lesson was understanding a new visual language. I had a sense of it in some ways already because of fine arts; in my English class, sometimes we would dissect historic pictures. In design, it's now using a universal system that everybody understands, so I'm learning how to remain within that system but also break the rules. How do you put it to use? Especially if you're working on a project for a brand, how do you break all these rules and then tie them back to the center of the use? What are you putting into it? That was a big one.
What was your understanding of design before the internship?
More of a visual sense — more like, "Oh, it looks good," or what's innovative for the time. I think about the things in the past that had great thought and design in them, and with all this new knowledge I'm like, "Wow, this was so subtle and unrecognizable to me," but when you really look into it you understand why certain things are the way they are and why they're used.
For example, in the Spur creative review meetings, they're going over the logo, but then typefaces that go along with it. There will be subtle changes, but then you can feel a difference, you can see it. Translating that visual information into, "How does it make you feel? What does it remind you of? What does this spark?" It's a lot, but it's really subtle. It's really cool.
Are you learning things like this right now in your current education?
No, but I could've to some extent. In my school, we had digital art courses, but I didn't take them because I was focused on fine arts. I just took the fine arts classes all through my senior year, and that's mainly what I've been focusing on. There, it's just painting and drawing, we don't really dive into design stuff, and I just learned about design on my own time.
But as far as I know, the digital courses there were more like illustration, so it wasn't necessarily type and logo design systems and all that stuff. I did see posters and kind of understand layout, but it was more illustrative stuff using Wacom tablets for drawing and all that.
Has that inspired any new ideas for what you're already studying or what you want to be studying? Have you been thinking about art history or painting or illustration differently in any way?
It just opens up a lot more that I didn't really know about. When I would hear "art history" I would think of the traditional connections to art, like painting and drawing. Brian [Collins] and Tom Wilder and a lot of other people here, they would reference or discuss certain designers from the past and show me books about them. There's just so much information. Tom showed me Dieter Rams, and it was just really, really interesting. But I didn't really connect with graphic design. Art history, there's so much there that I want to learn about — making the overall categorization of art history part of what I'm used to with fine arts.
Is there anything that surprised you at COLLINS?
The work ethic. I knew this was a pretty small company, and the people who were here, they worked to get here. They put in the time and make amazing work and all. But I would see people stay really late, or end up working on their own time on the weekends, or come in early — the dedication. Even Diego [our first apprentice], he's the same age but he's been doing this for a while. He's on a different path. His work ethic and dedication are amazing.
I wasn't used to it. It's like they don't even realize. They don't even pay attention to the time. They're so into their work and projects that it doesn't even faze them. They just end up leaving whenever they feel it's right.
"I think about the things in the past that had great thought and design in them, and with all this new knowledge I'm like, 'Wow, this was so subtle and unrecognizable to me.'"
While you were interning at COLLINS, you also applied to Cooper Hewitt.
I got the email that said I was accepted. At that point, it hadn't hit me. I didn't know the magnitude of what it would look like. All my teachers, they just bombarded me with astonishment, telling me, "This is where you got to go." I'm excited to find myself even more and experiment a lot. I say that I experiment a lot, but then sometimes I find something new or I'm exposed to a whole new process or categorization or genre, and I'm like, yeah, I'm only at the surface. I think I'm experimenting, but it's not as much as I want to be.
Tell me more about your fine art work. What inspires you?
I've been mainly doing painting and drawing, and then recently it's been sculpture. But then, I'm always finding new ways to bring in stuff.
Right now, I'm working with fabric. I've customized certain things. These Air Forces that I have? They're just clean Air Forces. I unstitched the checks and just crossed them, so it makes an "x" in the back. And then we got my dad these Dominican Air Forces, and they come with the dominoes. But he didn't want all of them on the shoes, so I just took the rest and I put them on the Air Forces. They were all white, so I just thought that was cool.
I've also recently painted another pair of Air Forces for my friend. And right now, I'm trying to do these denim jacket designs. I went to a thrift shop around here, and there was a tapestry in a frame. I got it and I split it in half, and I want to sew it to the sides of the jacket and sew a bunch of fabric and really experiment.
It sounds like you're playing.
I'm so glad that I can find interest in so many different things. When I was younger, I had this idea that I wanted to be an architect, but after a while I realized I didn't want to do that. But I'll see a building or I'll read something or watch a video about a certain architect or a structure, and then I'm really invested in it. It really interests me. But that's not my main goal. It's just taking in information, making my own connections for my own use, and understanding what's the value in this and that.
Even now, I'm reading a Verner Panton book and looking at all his furniture designs and seeing how he was trying to be free with it. I'm pretty sure he went to school for architecture, but he ended up working with chair designs and décor and all that stuff … just being free. I'm glad for that, because I don't like being restrained. It's inspiring when you see somebody breaking boundaries. It motivates you to try for yourself.
You learned about design systems while you were here. Did anything come as a surprise?
The locality of everyone — how everybody that contributes to the decisions and projects is here. It's a small company, so you have that face-to-face interaction. It works, it flows better, and through that it builds connections and relationships with people. It shows in the work as well. It's real, a lot of camaraderies, and a lot of mentoring as well because you're able to be there. The access and availability of everybody are immediate because you're in the same office. I've heard of other companies where there are hundreds or even thousands of workers. So to get to the person at the top that's really making decisions, or is bringing in these projects and directing what's to be done for the others, sounds like it's nerve-racking. I wouldn't know how it would go at these other companies. It's nice to see how buying in is involved with all these projects and everyone is invested in their well-being.
When you think about the design industry or art history industry, what are some things that come to mind that interest you or you feel deserve more attention?
Diversity.
I remember we were having a small talk with the others from my Parsons Scholars Program. A question from one of the mentors in the program was, "What role do you have as a minority artist or an artist of color?" or something like that.
I kind of took it harshly in my mind, but I tried to understand why it hit me harsh, and it was the fact that it just sounded like the implication of the question was that we needed to have a specific role, being that we come from this specific background.
Like you're obligated to do something.
Or to talk about the struggle or to stand up for your people. That's always going to be the case, of course. You're always going to want to see your people grow and develop and make progress.
But I don't want that to push the pressure on people. I see myself wanting to contribute to that, to represent my people at the same time, but I don't want it to feel forced.
Do you feel like there's a pressure to adopt this attitude?
I feel like there's unconscious pressure.
Because there's always going to be history, but then history repeats itself in certain ways and a lot of things that happen now are rooted in that history, so we're always going to come back to it. I've also heard here and there of people benefiting from documenting, or using minorities and the struggle of other ethnicities within the U.S. or other parts of the world as a way to profit. It's almost a trend now because it's the hot thing. Or they may feel like they connect with it, but not too much from a genuine point of view, more that they feel forced.
There are a lot more photographers, a lot more artists, and a lot more graphic designers. A question that came to my mind was how do you distinguish yourself? How do you really let yourself be known in that big crowd? I'm really cautious about what I think about and what I say, and I'm really open to when people point out my faults or give me feedback about anything, good or bad. Probably I want the bad even more because it's stuff to work on.
I try to tell people to not let themselves get tripped up with those questions of how to distinguish themselves, how to create a certain style, but instead just be unique. It makes me think about the younger students at my current high school, and a lot of the stuff I want to tell them revolves around trusting their own process and not questioning it too much or thinking about the future.
If I just keep working hard and doing my process, doing what I need to do and not focusing on everybody else and trying to force a voice, then I'll find my way. It'll come together. It'll do its work.
What kind of work would you like to do once you finish college?
The work I want to do would involve giving back, whether it's in a program, or maybe even an administrative role, even if it's with the Parsons Scholars Program that I was a part of.
Giving back to the students who are in the Program — allowing my knowledge to be passed on to them, so I can hear them out, so they can have somebody to go to creates a better experience for them. But really, any way that moves people.
"If I just keep working hard and doing my process, doing what I need to do and not focusing on everybody else and trying to force a voice, then I'll find my way. It'll come together. It'll do its work."
The Parsons Scholars Program gave me a lot of opportunities. They're not shy about making that known, that their program is catered to people who come from low-income backgrounds. They're not afraid to make it clear that they can give people opportunities that they do not have otherwise. That program gave me so much more than what my high school was able to give me, and it introduced me to COLLINS. It did so much for me, and I wouldn't be where I am without that.
I always want to have my process with me, making art. Even if the career I go into is not necessarily focused on art, I always want to be able to do it on the side. I've made it clear to myself that even if it doesn't necessarily revolve around art or the art-making process, I want my career to channel that creativity within me.
Thanks, Cesar. You're wise beyond your years and we're so excited for you.
You can find Cesar on Instagram.
---
About the internship program
Our internship program invests in high school students from underrepresented communities. During the two months, our interns learn about our philosophy on creativity and design, as well as the different tools that make their ideas real.
Led by our Director of Talent, Yocasta Lachapelle, we also assist our interns in financial aid logistics, student loan negotiations, college applications, and we provide ongoing mentorship. Over time, our interns also sit in on client meetings and contribute to projects. We're thrilled it is entering its fifth year.
Our interns have continued their education at the Rhode Island School of Design (RISD), University of Michigan, Cooper Union, Fashion Institute of Technology, Lehman College, and John Jay University.
Recently, we are turning the in-person internship and into online workshops.
If you are—or if you know of—a high school or college student of color seeking a career in design in San Francisco, New York City, or elsewhere, please let us know at apply_ny@wearecollins.com.
---
Paul Jun is the Editorial Director of COLLINS, leading a new endeavor in sharing ideas on creativity and design.
Artwork by Sanuk Kim, COLLINS.