First, it was the marketing team. Next, the artistic director and his advisors. Then the time came for our third and final pitch presentation — this time to the executive team at the San Francisco Symphony. After walking into the room, it was clear that Sako Fisher was the ultimate person to please. A 5'3" powerhouse, to call her "demure" would be a mistake.
As a presidential appointee to the Kennedy Center, trustee of Stanford University, and chair/member of countless cultural boards — including the San Francisco Symphony, the Smithsonian Institution, the Asian Art Museum Foundation, and the Centre Pompidou Foundation — Sako knows how to drive change the hard way (but only when necessary).
Born in Japan and raised in America, her high EQ — one shaped by her self-proclaimed "outsider" perspective as both an immigrant and a woman — originally felt like a shortcoming. Today, however, she knows it's an incredibly valuable asset, enabling her to lead with empathy and excellence, hand in hand. Under her eight-year leadership, the orchestra implemented a broad range of artistic, technological, and community-building initiatives that continue to place the San Francisco Symphony in the front ranks of the world's most innovative and accessible orchestras. Committed to growing audiences and increasing diversity throughout all areas of the organization, Sako oversaw the expansion of education projects and community engagement activities as well as cross-constituent initiatives to guide inclusion and strengthen the organization's culture of experimentation. This included spearheading internal DEI initiatives well before the cultural reawakening of the Black Lives Matter movement in 2020.
While our partnership with the San Francisco Symphony was a massive collective effort (involving over 20 brilliant voices, client side), Sako brings a uniquely powerful perspective as female leader. Here, we talk about the power of shock, skepticism, and fearless listening skills to make organizational change possible.
---
Karin Fyhrie: The San Francisco Symphony is almost 110 years old. Why was it time to reimagine things?
Sako Fisher: We've been putting good music on the stage for a while, but we've seen a decline in most everything else. And if we don't work together, we'll fail together. It's really about the internal structure of the organization itself.
One of the things I learned about the symphony and our industry is that it's very hierarchical. Fascinating, right? You think of arts organizations as being these sort of open forums, where everything is equal and there's a lot of free love. But that isn't the case.
So the biggest thing we needed to do was reassess things on a few levels:
1. Organizationally: I realized that there was a culture of otherness within our walls. That was wrong and was demoralizing for many folks. We needed to reframe how we saw the symphony internally. It's something much bigger than any one of us; a marketing person, a janitor, and an archivist are each just as important as a musician. That's why I started saying we're one San Francisco Symphony — we are one with the orchestra. It's like Formula One racing: You need a car, you need a driver, you need a pit crew, and you need sponsorship. And in the orchestra world, the car is the orchestra; the driver is the music director; the pit crew is the staff; and the sponsorship is the board and the donors. Without those four components being equally strong, you will not win.
"It's like Formula One racing: You need a car, you need a driver, you need a pit crew, and you need sponsorship. Without those four components being equally strong, you will not win."
2. Culturally: Everybody thinks the orchestra world is all about quality. But you have to ask yourself: Who defines quality? In our case, the arbiters are a bunch of dead white men. Seeing "quality" in that light was a really big aha moment for us as an organization. The introduction of the "brain trust" — a collaboration between our incoming artistic director, Esa-Pekka Salonon, along with eight individuals from all edges of the symphonic arts and beyond — is the first step in reimagining that through many different perspectives.
3. Conversationally: It's easy for art to get typecast as "art for art's sake" when it's barely represented. So many kids go to school and learn to read and write … but they aren't given a single art class. Did you know that the San Francisco Symphony provides the sole music education for the San Francisco Unified School District? Without an introduction to music, how would you know what else is out there? Where to look? Where concerts are held? Whether to clap? So we have to reframe the conversation around art to a place of imagination; of creativity; of freedom; of innovation; of evolution.
"Imagination is more important than knowledge. Knowledge is limited. Imagination encircles the world." — Albert Einstein
Karin: I'm glad you brought up the organizational aspects, because it's often overlooked when clients come in asking for a rebrand. But the reality is, underneath the aesthetic appeal, what we do is provide operational value: helping teams be more effective and cohesive with a shared set of stories, symbols and systems. In your opinion, when is an organization really ready to take on change?
Sako: You have to want it. You can pretty easily tell when people are bullshitting you — saying they want change but not really going there. I leave boards that won't change. And I only assume leadership of boards I can change. I'm the kid who wants to change the desks around.
At the symphony, we were ready. We wanted to change. We wanted to communicate something new about ourselves. We have new people coming in; we have new musicians; we have a new approach to how we work. People need to know that. We're not going to do this just because we have money to burn.
---
Karin: You've worked for many companies and advised on many boards. So you know firsthand that change isn't easy on the inside. From your perspective, what makes folks so damn uncomfortable when change starts to take shape?
Sako: I think, for many, it comes back to fear. People hate change because it's risky. It's scary. They don't want a different "architecture" around them. But the reality is you're still living in the same house. Your view might be changing, but let me tell you, the bathroom is still in the same place.
"You're still living in the same house. Your view might be changing, but let me tell you, the bathroom is still in the same place.
For me, I'm not afraid of making mistakes. I AM afraid of hurting people, but I'm not afraid of thinking outside my comfort zone. That's what makes me grow and be more interesting as a human being. So I like to communicate to my team that they can't expect to be both a constant learner and also always be fully-formed as an individual, team, or institution. We need to get comfortable with evolving incrementally — embodying something more dynamic.
Our new logo reflects this idea. I love it.
Karin: Where was there value in such a dramatic visual shift for the symphony?
Sako: There's plenty we may have been able to change internally, but that doesn't mean the audience will know it. So you have to make a pretty significant change. Shock gets a bad rep, but the beauty of shock is that it grabs your attention. Shock is waking back up. And even if folks can't experience our music firsthand, they can experience that same jolt, on some level, in the new identity.
In that way, COLLINS moved the needle substantially for us. We may not have moved the needle on stage yet … but we're getting there.
Karin: The question for us then becomes: How? How to wake people up — on behalf of the symphony, in particular? Early on, we shared an appreciation for the mysteries of the "Mona Lisa," which you described, lovingly, as "elusive" (not unlike your appreciation for the symphonic arts). What does elusiveness offer as a communication strategy?
Sako: I travel enough to know what sticks in my brain. I want us to have that quality. I want us to be memorable. I use the "Mona Lisa" as an analogy because you can't judge it on the first go around. There are millions of portraits out there, but how many are just fuzzy enough, you know? The more you gaze, the more you imagine.
Classical music is like that. You have to go back to it time and time again. And as life and age and experience contribute to your own self, the artwork reveals itself to you in new ways. There's a depth to the not knowing.
With our new identity, I like that I can read it and not know what it says. But I still know who it is.
"With our new identity, I like that I can read it and not know what it says. But I still know who it is.."
Karin: In essence, by inviting people in with questions, not answers, you create space for personal interpretation — which is a powerful way to tap into what's meaningful to the individual.
Sako: Right. And you may not always understand it, but you can accept and allow that to be a part of your reality. It's like sparkles — they stick to you and start to enhance everything else going on.
I think that's a lot of what progress in diversity, equity, and inclusion is all about. You may not be able to put your finger totally on progress, but you're going to be able to feel that an organization is making really big internal shifts — in how they communicate, how they start to do things differently, how they start to ask questions fearlessly. This is another way of cutting through the noise — when you can hear all the different voices, not just the loudest ones.
Speaking of sparkles: Did you know that when I stepped down as board president, the team named one of the brand colors after me? It's called "Sako Sparkle." That's one of the highlights of my life!
Karin: Let's talk about fearlessness, because that was part of your brief to us, kicking off our engagement with the request to "Be fearless. Push us. Make us think harder." As a leader: What does fearless mean to you?
Sako: Fearless, for me, is framed in the context of being a woman. It means allowing myself to not step back. To be willing to always accept criticism. To remind people where I contributed to something. To ask questions. Now I just ask the question and, more often than not, the room goes silent because everybody's been thinking it, but nobody's been asking it. So do you want to fight the good fight? Or are you going to step away?
Personally, I've got nothing to lose. Post-menopause is the best thing that ever happened to me.
Karin: Some people aren't in the same privileged position to do that…
Sako: I call it out now. So when I'm in DEI meetings, I say: "You know what? I'm going to use both my privilege and my power because I have those. I sit on them and this is what I'm going to do with them." And I might say to the CEO, "You're in a position of power, too. And you're going to join me in this." You gotta be public. Let's call a spade a hoe, right?
"You gotta be public. Let's call a spade a hoe, right?"
Fearlessness also means being comfortable with saying, "I don't know." Because when you say, "I don't know," or "Let me get back to you," it acknowledges two things: one, that you hear the person. And two, it shows that you don't have to have an answer right away.
---
Karin: I really respected your team's insistence on integrating a lot of different perspectives into the brand process. We've experimented with many client stakeholders' structures over the years — from really small, tight decision-making teams, all the way to massive, cross-team collaborations with 50+ voices intimately involved. We've also seen the shortcomings to each type of arrangement — more frequently with large teams that cannot reconcile different perspectives and, therefore, compromise to the point of overgeneralization. But not this time.
The symphony was the closest thing I've seen to a truly democratic process, essentially creating a governance style with one to two representatives across stakeholder groups — from the board to musicians, marketing staff, artistic leadership, business leadership, and more — each with equal voting power. I think our readers would appreciate hearing how you helped steward excellent work while integrating so many perspectives.
Sako: The reality is that you can't make everybody happy; but if everybody feels heard, they will accept the decision. And that's the difference.
If you have to have 100% agreement, then your project's dead. It's just not possible. But it is possible to listen and get to 100% acceptance. Same goes for our partnership. As a client, what I needed most was for you to hear us. I loved that you guys at COLLINS made all of us feel heard. You "got" us and what we were hungry for, but that maybe we weren't able to articulate. In this way, you also gave back.
"The reality is that you can't make everybody happy; but if everybody feels heard, they will accept the decision. And that's the difference."
Karin: How do you listen?
Sako: A few rules…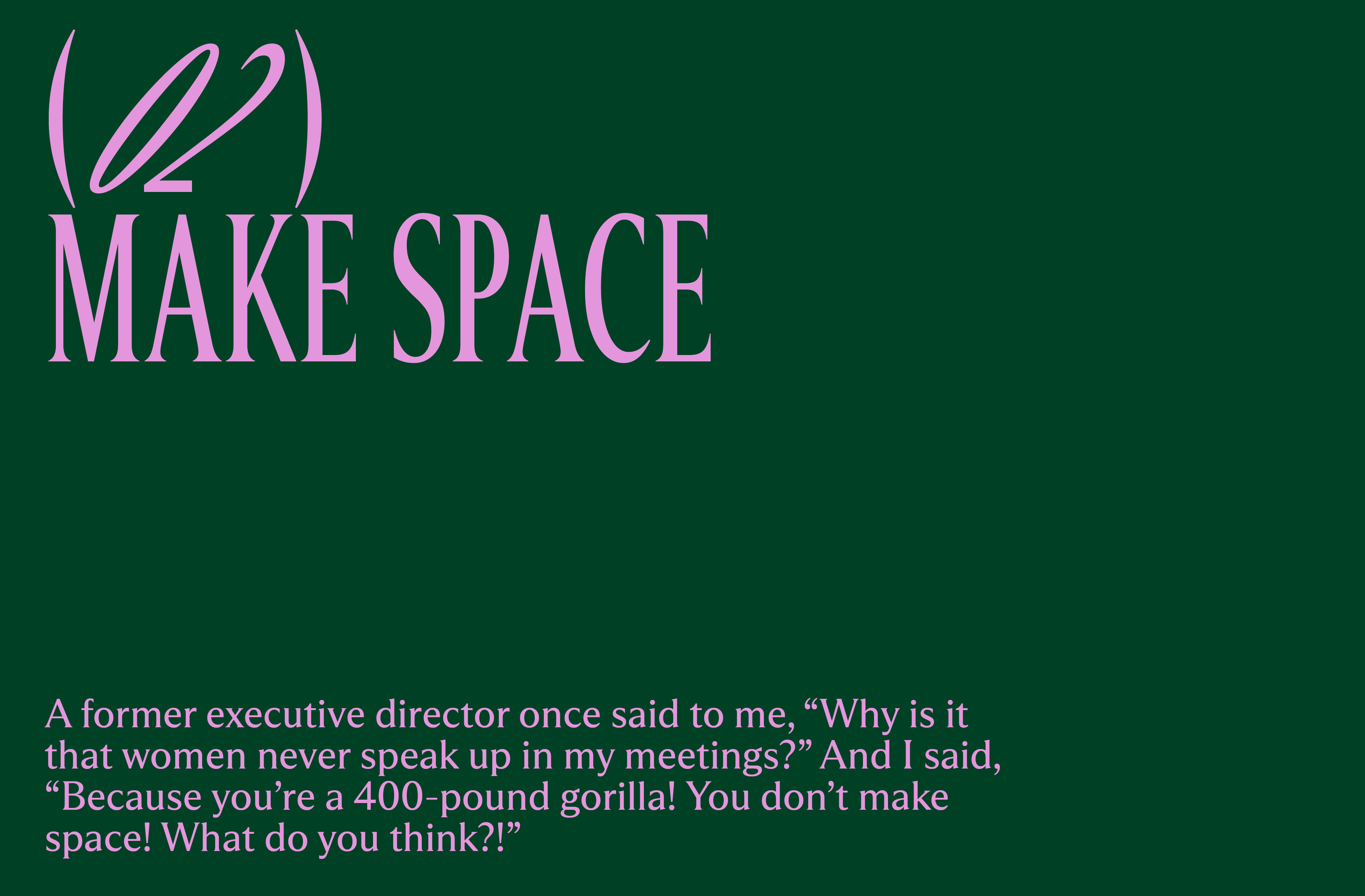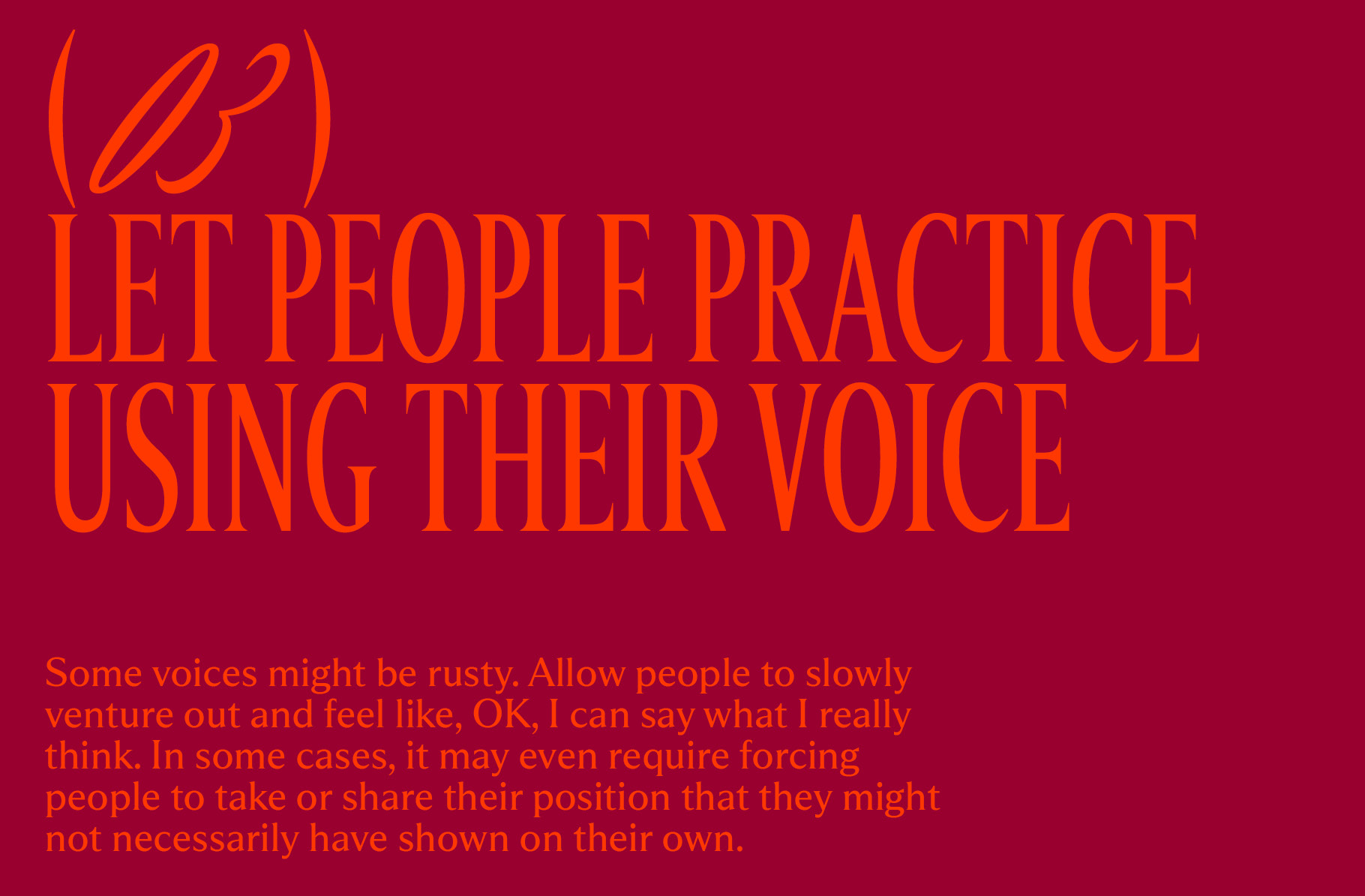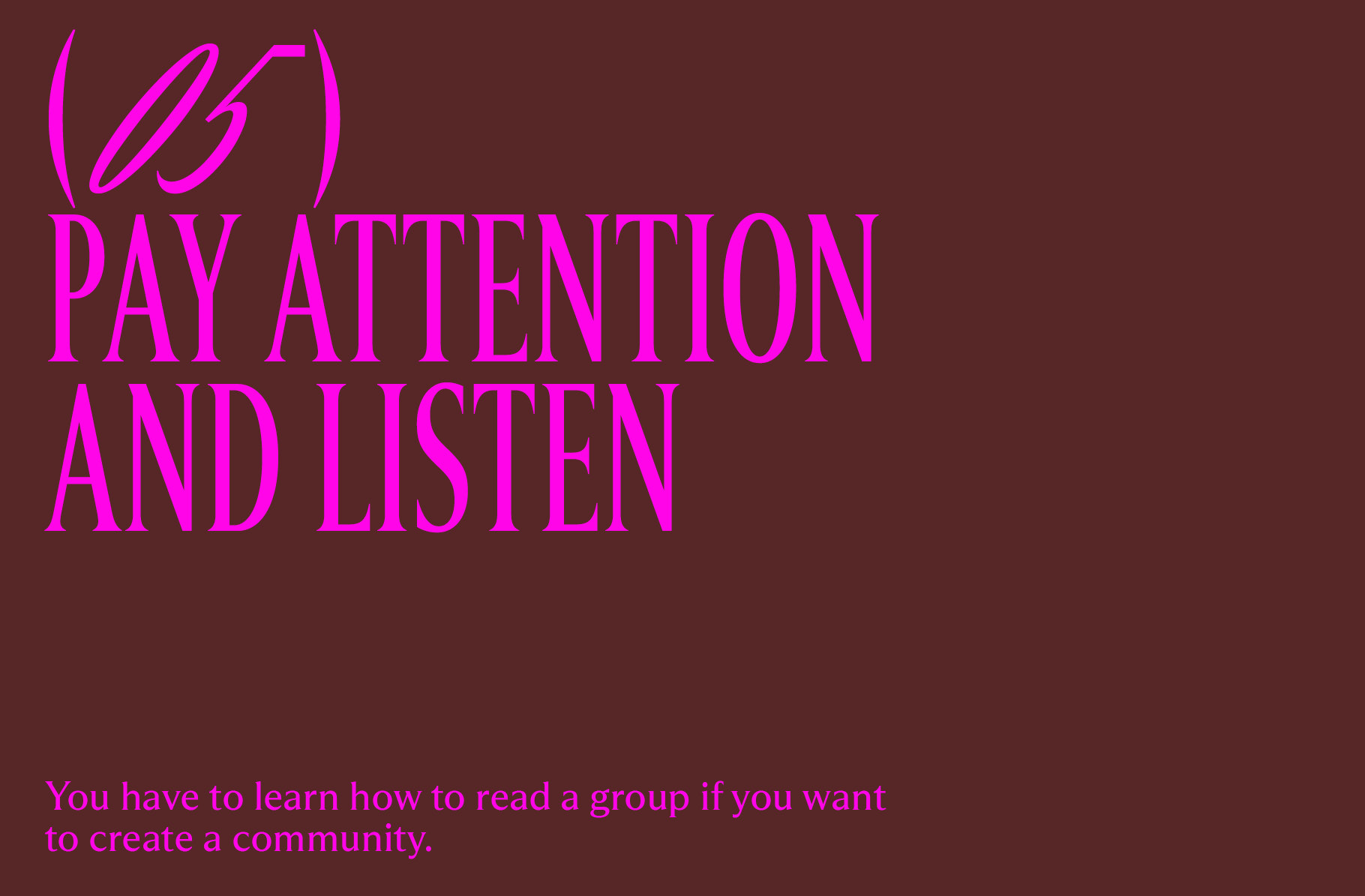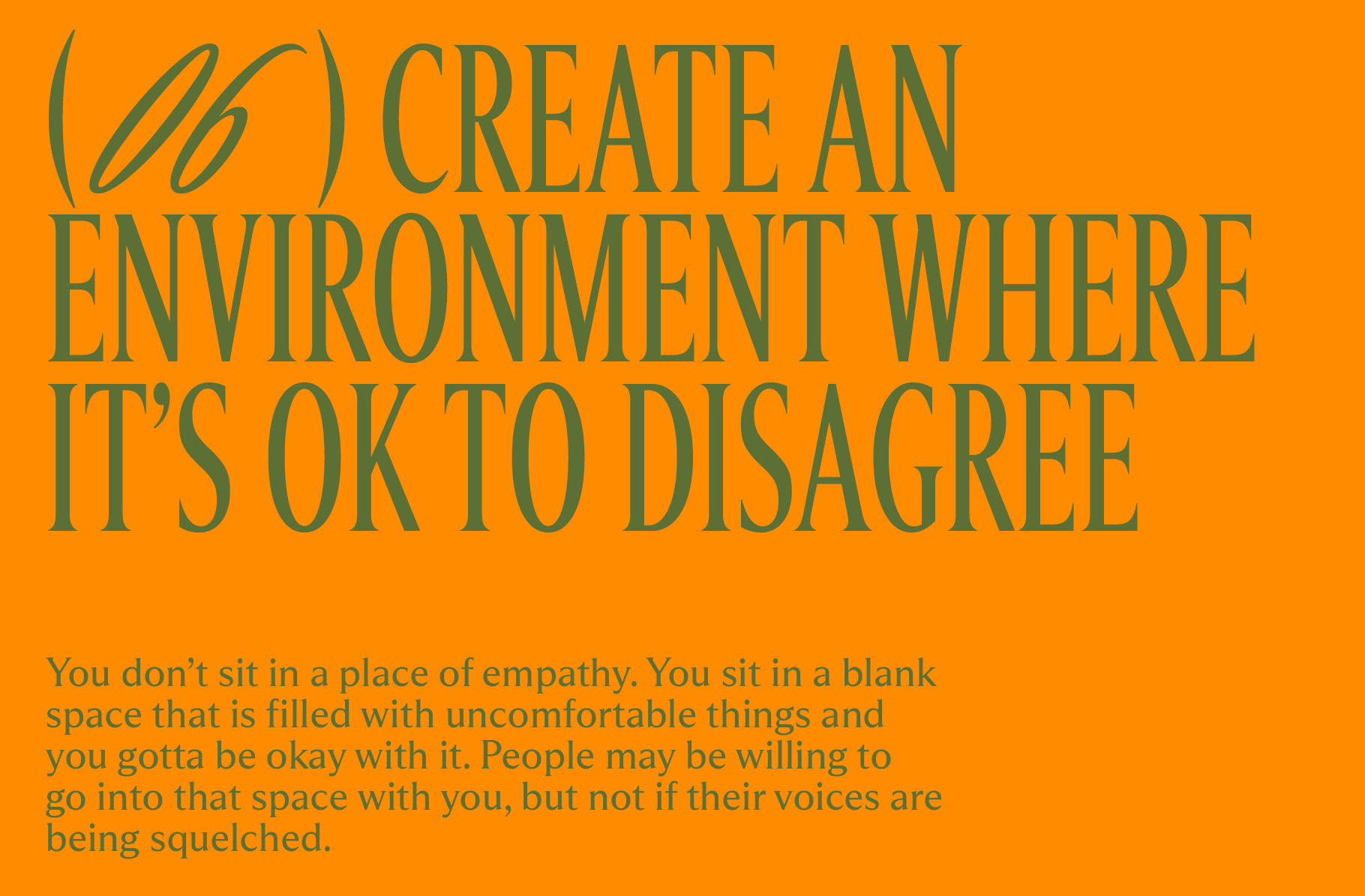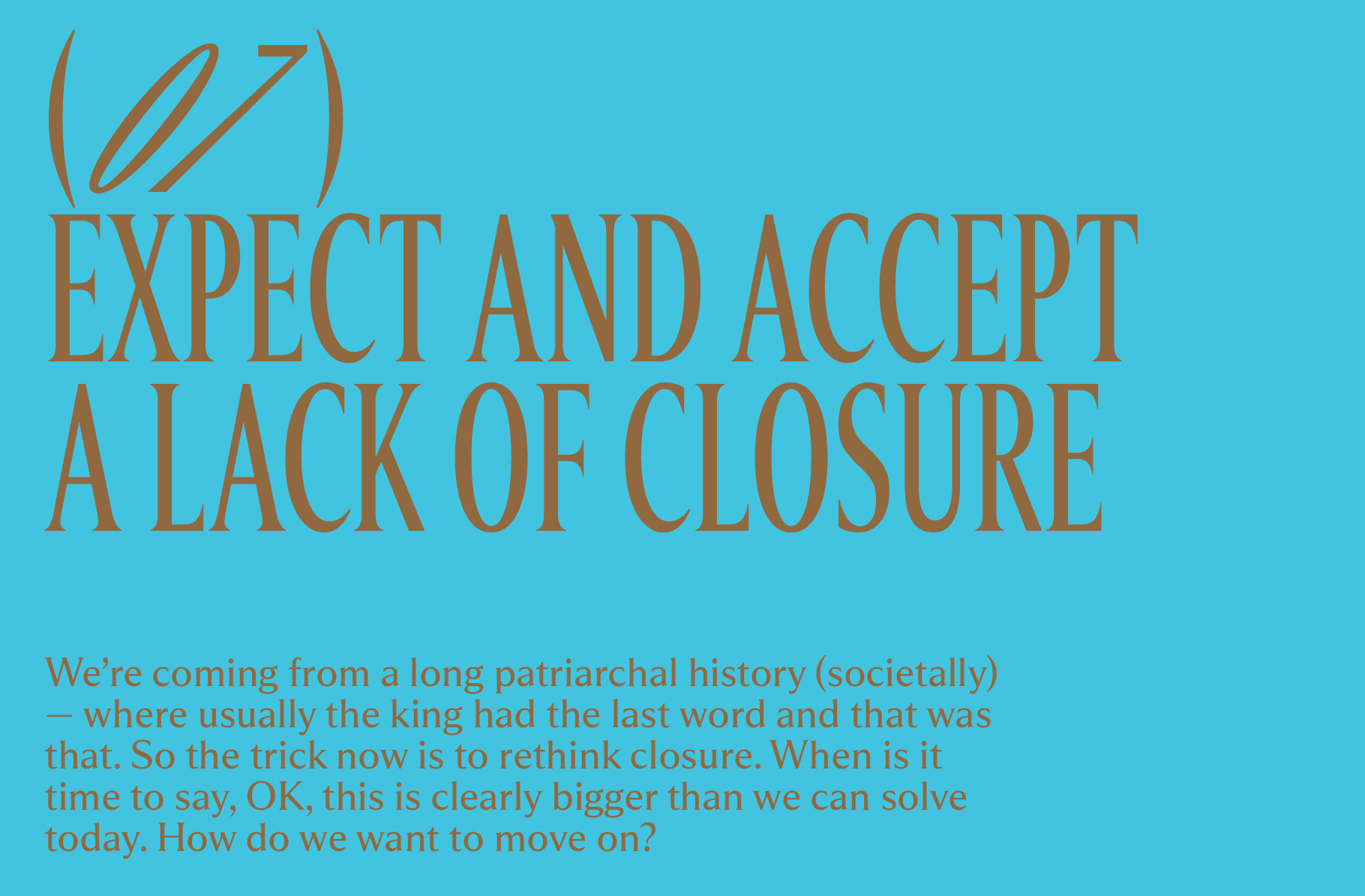 "So the trick now is to rethink closure. When is it time to say,
OK, this is clearly bigger than we can solve today."
Karin: And what are you listening for?
Sako: I'm listening for the nuance. I'm a super listener in that regard. Mostly, I think, because I grew up as an outsider and with a parent whose first language wasn't my language. I was actually incredibly shy as a kid. In Japan, you're not encouraged or taught to speak up as a woman. And so I have a million regrets about my younger days because I didn't know how to be. I always felt like I've had to learn how to fit in. What do I wear? What do I say? Am I saying the right things? Am I smart enough?
Yes, I was smart enough. Back then, though, I was seeing "smart" as just a high IQ. I have a high EQ — it's a quality that wasn't always valued in my family, but it is what makes me valuable now in ways that weren't initially appreciated or considered important.
Karin: Which is just one of the many reasons why I admire you. As a high-EQ leader, what advice would you give to other leaders embarking on a rebrand?
Sako: First, trust in your partners— they know what success looks like. When I saw the work that COLLINS has done, all I was thinking was I want to be in that league. And when you're putting a shitload of trust and money in a team, believe me, they want to deliver. Why would they leave you high and dry when they're wearing your reputation on their sleeve? So you need to trust in them.
Second, be fearless. Open your mind. Go to where you are most brave to sit and see how it feels. I bet it's really not that scary.
And third, if you can't make the change happen, change the people.
Karin: Yes, yes, and yes! Any parting thoughts for the ladies?
Sako: In one of my leadership roles, another male exec once said to me, "I thought you'd be more demure."
Karin: How feminine.
Sako: Tell me what the male equivalent of demure is and you get a very rousing dinner conversation. This question is not for a bunch of women — make sure to have men in the room.
I have an obsession with Hello Kitty. I always have a Hello Kitty phone case. One time, I'll never forget, I went to this league of presidents meeting — all men — and we're all chatting. I just put my phone on the table and there is Hello Kitty in all her glory while I'm talking about some particular situation.
I liked it because I could see them processing. I could see that they wanted to put me in a box. To be demure. But you don't know me. I'm going to keep you guessing about who I am until you're dead.
Karin: Very elusive. Very dynamic. Like a modern muse for the symphony. Thank you Sako — to that, I say, éncore..
---
Since the pandemic hit, the San Francisco Symphony has received an anonymous $1 million gift to expand its education program into Oakland. Consider supporting the symphony or enjoying an armchair experience here.
Karin Fyhrie, Managing Partner, COLLINS.
Sakurako Fisher is the former Board President of the San Francisco Symphony.
Artwork by Barney Stepney, COLLINS.
Want to learn more about our San Francisco Symphony partnership? Visit our case study to see the rebrand, then enjoy the encore with our behind-the-scenes article, The San Francisco Symphony sets the stage for innovation to learn more about the making of the brand magic.